---
File→ Data Export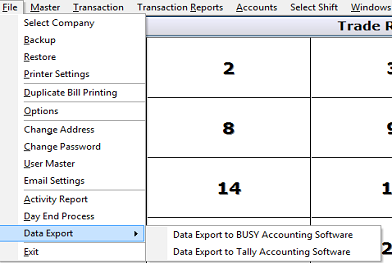 There is two part of Data Export
·
Data Export To BUSY Accounting Software
·
Data Export To Tally Accounting Software
? Data Export To BUSY Accounting Software
BUSY is the complete accounting software for small and medium businesses worldwide.
BUSY is one of the leading accounting Software in India.
First you will select the date of financial year.
And enter the date of BUSY Software Financial Year starting date and tick vouchers.
Then select the file path in a Browse option, and press export and show the Successfully Export then Ok.
? Data Export To Tally Accounting Software
A Tally is a record of amounts or numbers which you keep changing and adding to as the activity which affects it progresses.
Tally is one of the best business accounting software for accounting, inventory, payroll.
Here select the date of financial year.
Then tick date column then select the date and vouchers.
When you want export the file press Export button.
Close is the button close the window.