---
Token System
KOT (Kitchen Order Token) is a written form of the order given by customers in Restaurants and Bars. This is handed over to the person
managing the kitchen and the dish ordered is prepared on the basis of the same.
In this system works same as Direct billing, But it generates Token for each Order.
Here select the table number, table number access from the Table master.
Select the Steward and Waiter name, it is access from the Steward and Waiter master.
Item code and description is access from the Recipe menu master.
And enter the Qty of the Item. Rate will display automatically.
Select the Table No, Item No or Item Description, enter the Quantity & PAX, select Steward No, Waiter No, Rate, Unit will display automatically, and Press to
Add for add the Item, then you want to press Generate KOT (F5) button.
In before you want to remove any item from add list then select one item and press to Remove button.
When you want print, press Print Counter Bill (F6).
Then press Token button and one window will be appear.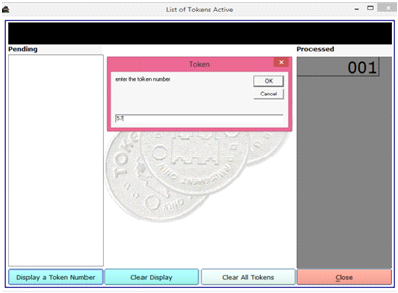 Enter the Display Token Number button and enter the Token number, press Ok button.
This window will display the Token number.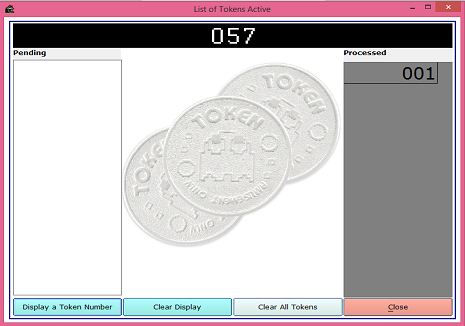 Clear Display: - This button is used for the clear the display.
Clear All Tokens: - You want clear all tokens, select Clear all token button it will show the "Do you want to clear all tokens" press Yes/No button.
Close: - Close is the button exit from the Window.
* This mark is Indicate the compulsory fill the details.