---
Masters→ Material Master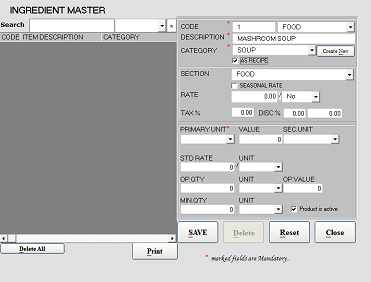 Material Master is used for enter the code of item, description, category and also rate.
You want to create New description or category, then click on Create New button.
Then one window will appear, here category name, main category name enter then save for the details.
Then tick on the As Recipe then recipe section will be open, here you have select Food or Liquor, then enter the Rate, Tax and Discount in percent.
Must you select the Units of Recipes. You must enter Primary unit, value, Sec. Unit, STD Rate, Open Qty, Open Value, Minimum Qty, because it is shows
the Raw material are available or minimum stock or Not with color display.
This is useful to the stock the Raw materials.
You want to Edit, Delete, First you select one material then only these fields are enabled, otherwise these are disabled.
You want update your Materials, then Click on Edit do some Changes.
And press to update then it will save.
* This mark is Indicate the compulsory fill the details.